Government agents take former San Cristobal mayor back to jail as Maduro regime says he planned violent acts before impending protests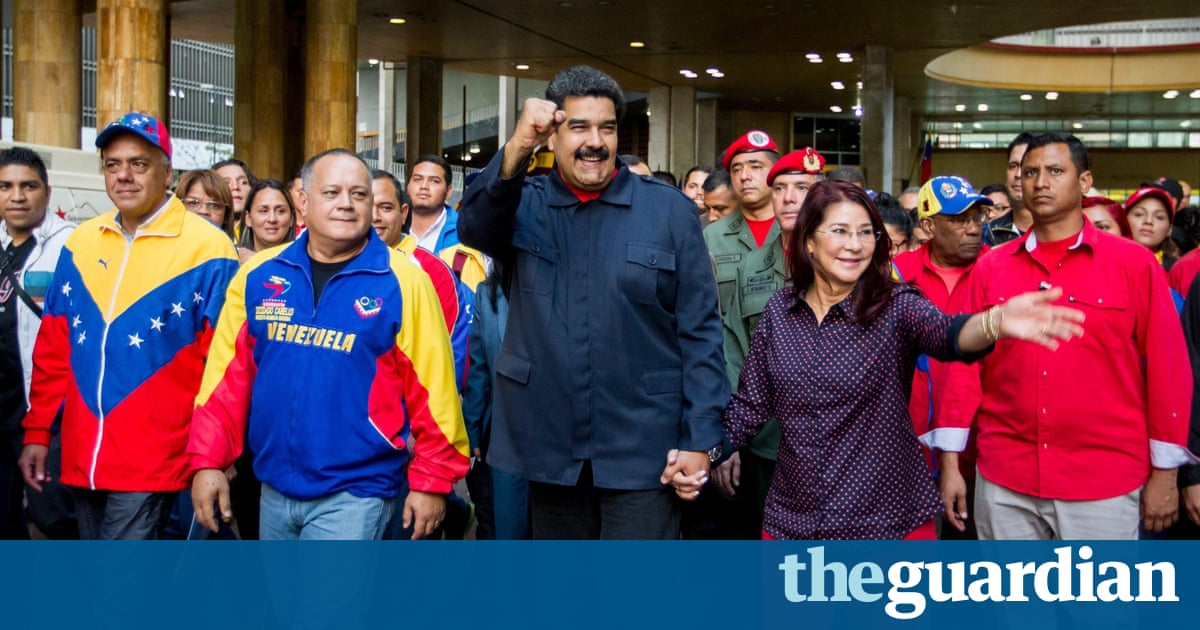 A prominent Venezuelan opposition leader has been jailed again after intelligence agents picked him up at his home before dawn on Saturday, a move the government said was necessary to prevent acts of violence but which has alarmed opposition and human rights groups.
Patricia Gutierrez said agents from the Sebin intelligence agency arrived around 3am without notice at the family home where her husband, Daniel Ceballos, had been held under house arrest.
She said they put Ceballos in an ambulance, saying they were taking for a medical exam, but instead transported the former mayor of San Cristobl to the jail in central Guarico state where was held for more than a year until August 2015, when he was granted house arrest due to kidney problems.
His transfer to jail came as the opposition vowed a mass protest on Thursday to demand that authorities allow a recall referendum to go ahead. A successful yes vote this year would cut short President Nicols Maduros term and trigger new elections.
The government said it had intelligence that Ceballos was planning to flee before the 1 September protests and carry out violent acts.
The evidence compiled will allow us to continue advancing in necessary investigations to prevent, uncover and neutralize any act that aims to destabilize our democratic system, the interior ministry said in a statement.
Gutierrez published a cellphone video in which Ceballos and his daughter can be heard exchanging shouts of I love you as an ambulance is seen parked in front of an apartment building.
This is how my daughter Victoria said goodbye to her father, Gutierrez said on Twitter. The dictatorship isnt going to destroy my family. Freedom will come soon.
The transfer alarmed government opponents and human rights groups.
Authorities in Venezuela seem to be willing to stop at nothing in their quest to prevent anyone from criticizing them, particularly as the political and humanitarian situation in the country continues to deteriorate, said Erika Guevara-Rosas, Americas director at the rights group Amnesty International.
The 32-year-old Ceballos was the leader of a wave of anti-government protests in the western city of San Cristobl that rocked Venezuela in early 2014, leading to more than 40 deaths.
Fear of another crackdown has made it harder for the opposition to coax its supporters back into the streets. But as Venezuelas economy spins further out of control, with daily, blocks-long food lines and inflation topping 700%, calls for Maduros removal have grown louder, even among poor Venezuelans who still revere his predecessor and mentor, the late Hugo Chvez.
Electoral authorities, who are widely seen as bowing to Maduros demands, say it is unlikely a vote can be scheduled this year. If the ruling party can delay a vote until 2017, Maduro would be replaced by his vice-president if he loses, as polls indicate he would.
Ceballos was initially arrested along with several other activists of his Popular Will party, including Leopoldo Lopez. He has already served a 12-month sentence for disobeying a government order to remove barricades during the street protests but still faces civil rebellion charges.
He won a congressional primary from behind bars last year but authorities later barred him from holding public office. His wife then won by a landslide in an election to succeed him.
The US-backed opposition has made the release of Lopez, Ceballos and dozens of other activists it considers political prisoners a key demand. Maduro considers the activists dangerous coup-plotters.
Read more: https://www.theguardian.com/world/2016/aug/27/daniel-cabellos-venezuela-opposition-leader-imprisoned