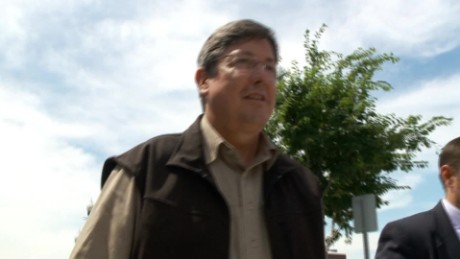 (CNN)A leader of a notorious polygamist Mormon sect has given the feds the slip — with some help from a little olive oil.
While under house arrest awaiting a fraud trial, Bishop Lyle Jeffs of the Fundamentalist Church of Jesus Christ of Latter-Day Saints squirmed out of an FBI ankle bracelet with the aid of a lubricant.
"He used a substance which may have been olive oil to lubricate the GPS tracking band and slip it off his ankle," said FBI agent Eric Barnhart of the Salt Lake City field office.
He is now at large, has bodyguard protection and considered dangerous, according to the FBI.
A flight risk
Lyle Jeffs' church split from the Church of Latter-Day Saints in the 1930s after the Mormon establishment rejected polygamy.
Another Jeffs brother, Warren, who is in prison, was made the leader and prophet of the FLDS sect in 2002 after their father, the church's founder, died.
Lyle Jeffs had been the de facto leader following his brother's conviction on child-sex charges relating to his underage "wives."
Federal prosecutors wanted Jeffs to remain in jail ahead of his trial, arguing that he was a flight risk.
It is considered unusual for a judge to order pretrial detention for a first-time offender in a white collar case.
Ten other FLDS members charged in the alleged scheme have been allowed to post bond and leave federal detention.
Read more: http://www.cnn.com/2016/07/13/us/flds-lyle-jeffs-escape/index.html