Home secretary and junior energy minister see off Michael Gove in campaign for Conservative party leadership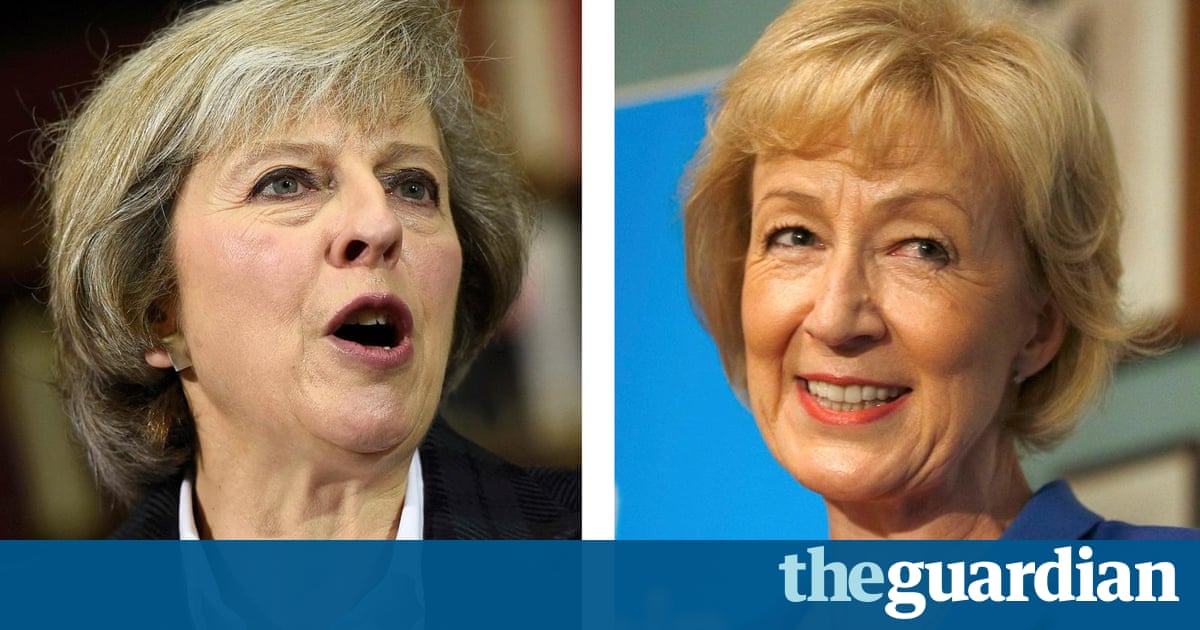 Andrea Leadsom, the junior energy minister who shot to prominence as a leading voice in the Vote Leave campaign, has secured second place in the Conservative party leadership race behind Home Secretary Theresa May on Thursday, ensuring Britains next prime minister will be a woman.
Leadsom, who was considered a rank outsider when the contest began, knocked out the justice secretary, Michael Gove, in the second round of voting by Conservative MPs, despite never having held a cabinet-level post.
In the second round of voting, May scooped up 199 votes, Leadsom had 84 and Gove was eliminated with 46, two votes fewer than he received in the first round.
The two-woman shortlist will now be presented to the partys grassroots members around the country, with the winner due to be announced on 9 September, though there are calls for it to be speeded up due to the fallout from the vote to leave the EU.
May said she was delighted to have the support of so many of her colleagues; and stressed her experience at the highest level of government, saying: This vote shows the Tory party can come together and unite, and under my leadership it will.
We need strong, proven leadership to negotiate the best deal for Britain as we leave the European Union, to unite our party and our country and to make Britain a country that works not for a privileged few but for every one of us.
Leadsom, a committed Christian, is regarded as a straight-talking right-winger, and gave a series of interviews on Thursday in which she said she was sceptical about gay marriage and would reintroduce fox-hunting two causes clbres of the Tory right. She also faced down pressure about claims on her CV that she held various senior posts in the City.
Asked by ITV about her views on gay marriage, she said there was very clear hurt caused by the legislation to many Christians and claimed the UK has muddled the terms of marriage, civil partnership, registry office, church.
I didnt really like the legislation, that was the problem, but I absolutely support gay marriage, she said.
However, backbench MP Ben Howlett, a May supporter, said Leadsoms comments appeared to turn back the clock on one of the proudest achievements of David Cameron and the Conservative party has been equal marriage.
Gove had entered the contest last Thursday just hours before nominations closed, and effectively stymied the leadership ambitions of his fellow Brexit campaigner Boris Johnson, whose campaign he was meant to be running.
That act of disloyalty appears to have raised doubts about Goves leadership potential among MPs, however; as did text messages sent by his campaign manager, skills minister Nick Boles, urging fellow MPs to work together to stop Andrea Leadsom.
At a private meeting with MPs, Graham Stuart told him: If youd asked me two weeks ago who I most respected in British politics youd have been top of my list. But it is clear to me now that you are not fit for the post of prime minister.
Conceding defeat, Gove said he was really fortunate to have some of the brightest and the best of the parliamentary party on my side, and described the two remaining candidates as formidable politicians. He added that he was pleased Britain would now have a female prime minister.
Read more: https://www.theguardian.com/politics/2016/jul/07/theresa-may-andrea-leadsom-tory-leader-prime-minister