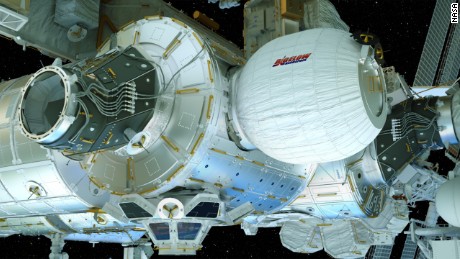 (CNN)The International Space Station is about to get a little bigger.
Astronauts are preparing to deploy the much anticipated Bigelow Expandable Activity Module (BEAM) on Thursday, which will kick off a two-year mission in orbit.
Crew members were installing computer cables, checking connections and hardware before the morning deployment,
according to NASA.
The event will be televised live on
NASA TV
. The fun begins at 5:30 a.m. ET.
The prototype successfully hooked onto
ISS in April
, making it the first-ever test module to attach to the craft.
The American space agency has been clear that the next space station in lower Earth's orbit will most likely be a commercial station, where NASA is just one several customers, according to
Jason Crusan
, director of NASA's Advanced Exploration Systems.
Unlike traditional space structures that have been made of metal, BEAM is crafted with a Kevlar-like weave that runs throughout the habitat. BEAM's technology is appealing for future space endeavors because it's lightweight and compact material makes it easier and potentially cheaper for rockets to carry the equipment into space.
Billionaire businessman Robert Bigelow, founder of Bigelow Aerospace, hopes to launch an expandable space station into orbit by 2020. "We have the architecture to launch on the moon, but our first step it to launch into lower orbit," he
told CNN
.
Read more: http://www.cnn.com/2016/05/25/us/nasa-beam-expandable-habitat/index.html