The comedian who has forged a career tackling race politics has a new album that takes on Black Lives matter and gun control and is topping iTunes charts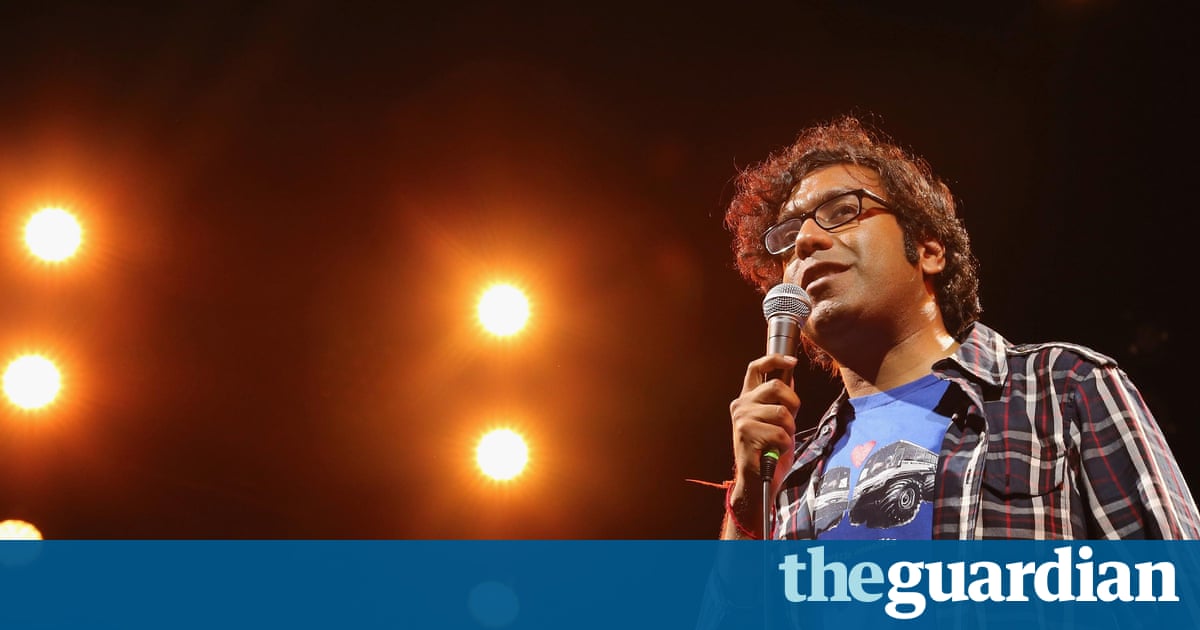 Hari Kondabolu actively resists being labeled an Indian or political comedian. In a conversation with the writer bell hooks in April, he said his jokes are just everyday musings. Why is someone talking about their dog or their day at work any more of an observation than me talking about racism or systemic oppression? he had said.
His latest album, Mainstream American Comic, could not be more explicit about the intentions of his work. I dont like being niched as a thing, he declares on the record, calling out a college that deployed South Asian stereotypes to advertise his show. Ive been on Letterman, Conan, Kimmel, Comedy Central. Ive been in a shitty Sandra Bullock movie, he says (All About Steve). Nothing is more mainstream than a shitty Sandra Bullock movie.
Like a self-fulfilling prophecy, Mainstream American Comic topped the iTunes comedy album chart shortly after its release last month. For the Brooklyn-based comedian, this is a telling sign of the times we live in. People want this kind of content, Kondabolu told the Guardian. They want discussions about difficult things, and they want to laugh in order to deal with the pain and frustrations theyre feeling with the world.
From abortion to white privilege to police brutality, Kondabolu takes on some of the most pressing and provocative issues confronting American society today with incisive wit and a refusal to sugarcoat injustice.
He ridicules claims that all lives matter in opposition to the Black Lives Matter movement, interweaving the debate on gun control with the police killings of black people in a blunt knot: On one side of the issue, you have people who support the second amendment and will not waver for any reason. And on the other side of the issue, you have people whove been shot.
Race politics provides familiar fodder for Kondabolu, whose last album, the critically acclaimed Waiting for 2042, was robustly brewed in melanin. But in line with his mainstream pursuits, Kondabolu said he dabbled in more conventional political humor for his album, critiquing the presidential nominees and even questioning Bernie Sanders self-proclaimed socialism and Barack Obamas term in office.
Expanding his repertoire was a purposeful attempt to broaden his appeal. How do I make an album more accessible to people while still leaving the politics genuine, righteous and in my point of view? Kondabolu said.
The comedian is also channeling his punditry into Politically Re-Active, a weekly election podcast hosted with longtime friend and collaborator W Kamau Bell. Weve had a number of phone calls where at the end of the call, we were like, Oh this could have been a podcast, Kondabolu said of his relationship with Bell. We always have so much fun, we have such similar points of view and were good in terms of how we communicate.
The effervescent pair, who worked together on Bells show Totally Biased, aims to cut through the noise with conversations featuring critical voices, including Democracy Nows Amy Goodman and Mother Jones reporter Shane Bauer. Kondabolu said because First Look Media, which also supports the Intercept, pays them and manages logistics, the project was easy to get involved with.
Its not that we didnt want to do it before but to incentivize it helps, he said. Everything is set up for us, our job is to go in there and deliver so when you have all that in place and the possibility of being paid, it makes it a lot easier to say yes.
For his next endeavor, Kondabolu is working on a documentary analyzing the representation and impact of Apu from The Simpsons, the Indian convenience store owner in a TV show he has loved since he was a child despite feeling frustrated by the racist and xenophobic stereotypes. He recalled the conflict he and his friends shared growing up watching the only show with a South Asian character, who was wielded as a racial slur against them.
That was really the primary representation of South Asian America in the mass media at that time, Kondabolu said, For like 10 to 15 years that was really all we had It was a cartoon voiced by a white guy.
Its part of a larger history of minstrelsy in this country going back hundreds of years. This isnt a new phenomenon, its just interesting that [The Simpsons] is still on today and were talking about it in 2016.
Kondabolu pointed out that negative images of marginalized people can further entrench bigoted attitudes and perpetuate harm against those communities in real life. He described South Asian representation in a post-9/11 world as dichotomous.
You have the harmless, goofy, funny immigrant and you have the dangerous enemy terrorist. Those are two extremes, he said. When you have brown people being killed in hate crimes and being detained and deported by their government, that says that we as a nation do not know accurate representations with nuances and differences.
Kondabolu said the the heightened media visibility of South Asians in recent years not only speaks to more representation but also an ability to reclaim control over how these images are produced. Mindy Kaling has her own show thats power. Aziz Ansari has his own show thats power, he said. When you can create the work, thats a huge step in gaining control with a more critical lens over how your humanity is limited in the mainstream.
Hari Kondabolu is at The Bell House in Brooklyn, New York on 3 and 4 August
Read more: https://www.theguardian.com/stage/2016/aug/03/hari-kondabolu-mainstream-american-comic