Criminal case can proceed after Robert Dear, who has acknowledged he killed three people in Colorado in November, receives treatment, judge said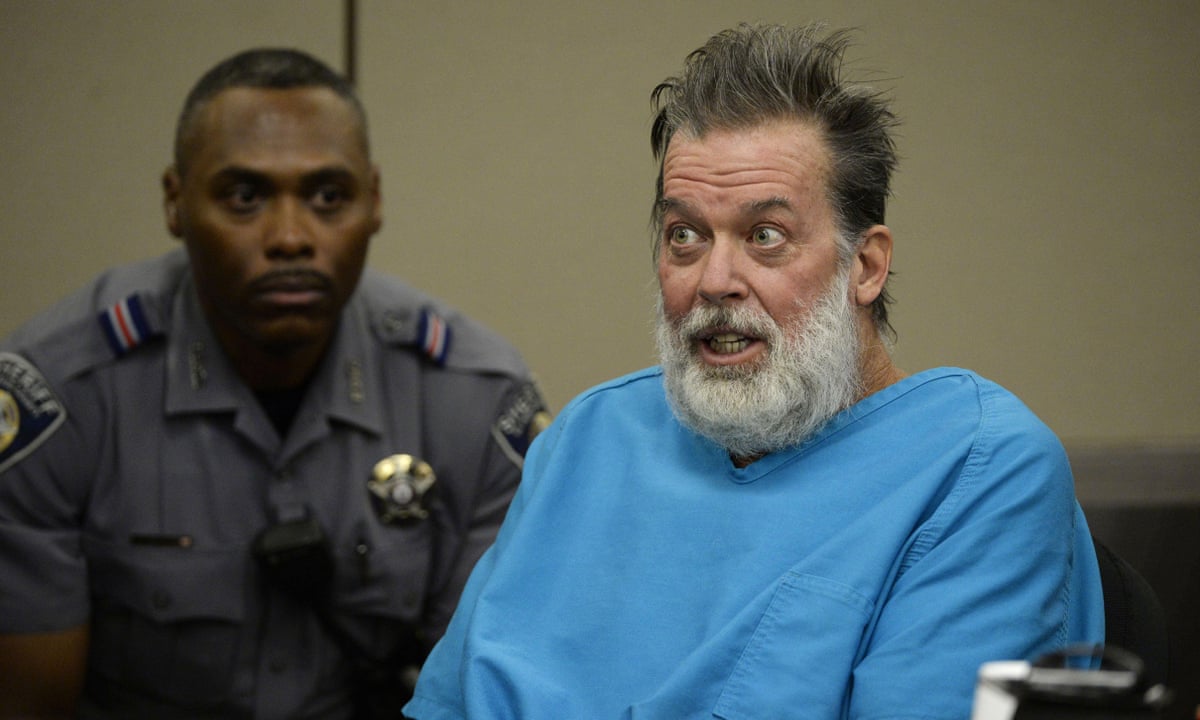 A judge has found a man who acknowledged shooting three people to deathat a Colorado Planned Parenthood clinic mentally incompetent to continue with his criminal case.
The ruling on Wednesday by Judge Gilbert Martinez puts the case against 57-year-old Robert Dear on hold until his mental competency can be restored through treatment. The case will resume when he is found to be capable of understanding the court proceedings and assist in his defense.
Dear is charged with 179 counts stemming from the 27 November shooting at the Colorado SpringsPlanned Parenthood. The attacked killed two people, KeArre Stewart and Jennifer Markovsky, who were accompanying friends to the clinics that day. The shooting also claimed the life of a police officer,Garrett Swayze, and injured nine others.
During courtroom outbursts, Dear has declared himself a warrior for the babies and said he was guilty, acting to save the babies that were supposed to be aborted on the day of the attack. He is reported to have told law enforcement officers at the scene of the crime, No more baby parts.
Martinez ordered the competency exam in December after Dear announced that he wanted to fire his public defenders and represent himself.
Psychologists have testified Dear is not mentally capable of understanding the court proceedings or helping his lawyers.
In the aftermath of the assaults, Planned Parenthood and its allies linked the shooting to accusations that the group sold fetal parts to medical research groups for a profit, which is a federal crime. The claims, which Planned Parenthood denies, stem from secretly recorded, heavily edited video taken of Planned Parenthood executives. The videos were released by a little-known anti-abortion group last summer.
Planned Parenthood has said that it does not profit from fetal tissue but rather donates it, and legally accepts reimbursement for storage and transportation costs. More than a dozen states have investigated the claims and concluded that they were unsubstantiated or declined to investigate, citing a lack of evidence. But the videos nevertheless ignited a political firestorm and prompted Congressional Republicans to open a half-dozen investigations into Planned Parenthood.
Abortion rights advocates have blamed the hostile political atmosphere for what they claim is a sharp rise in threats and aggression toward abortion providers.
Cecile Richards, Planned Parenthoods president, said shortly after the attack in Colorado that verbal assaults based on the videos created the kind of climate that we are now seeing that leads to the harassment of doctors and violence at clinics.
The National Abortion Federation, which advocates for abortion providers, recorded 94 threats of violence against abortion providers in 2015, compared with just one in 2014.
The attack in November marked the first time in more than twenty years that an assault on a US abortion clinic has had a fatal outcome.
Read more: https://www.theguardian.com/us-news/2016/may/11/planned-parenthood-shooting-robert-dear-not-mentally-competent