The motive in the shootings of police officers remains unclear but the immediate reaction highlights concerns at the end of Obamas presidency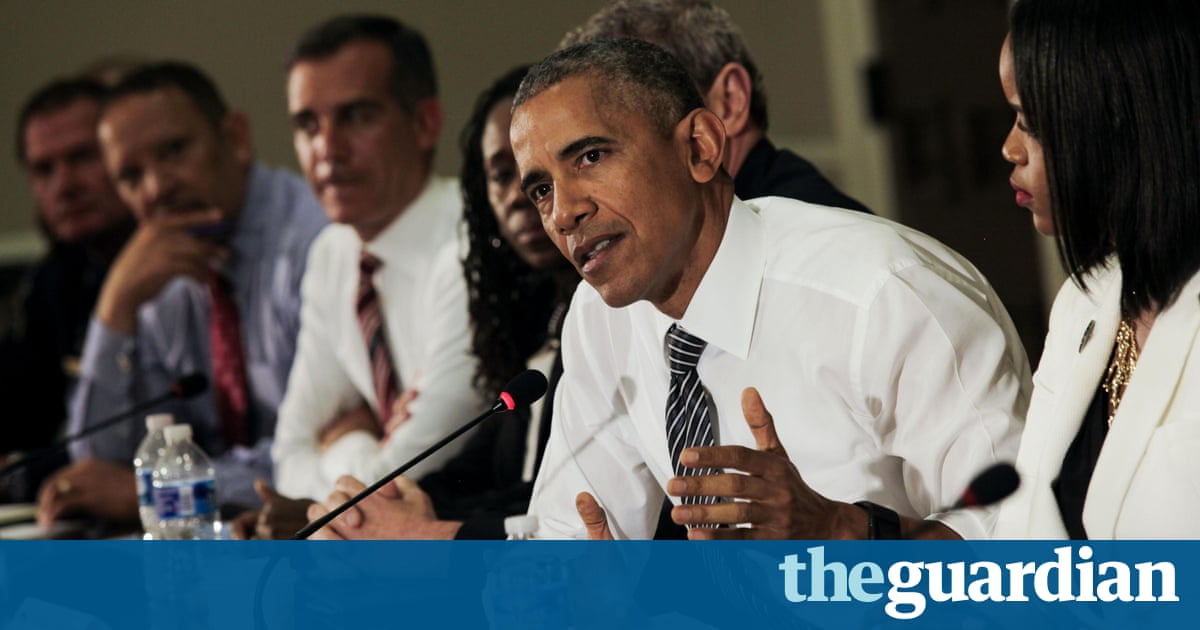 Less than a week ago, Barack Obama stood at a lectern in front of a Texan concert hall to tell a frightened nation it was not, in fact, coming apart at the seams.
Im here to say we must reject such despair, the president told mourners at a service for five police officers who were assassinated by an anti-white gunman at the end of a protest in Dallas. Im here to insist that we are not as divided as we seem.
Such attempts to soothe and bring together a country he had promised eight years ago to profoundly reunite were scorned on Sunday as the streets of yet another American city boiled with resentment after a multiple murder.
The motive behind the shooting in Baton Rouge in which three police officers were killed and three wounded was not immediately clear. But the reaction from the public was one of immediate concern.
Two hot summers after the fatal shooting by Missouri police of Michael Brown, an unarmed black 18-year-old, set off waves of civil unrest that were put down by tanks full of policemen equipped more like soldiers in Iraq, the US is once again mired in deepening domestic conflict.
We are sitting on a powder keg, Pastor Herbert Thompson Jr warned me, while trying to calm the streets of Ferguson in August 2014. In July 2016, as Donald Trump prepares to open in Cleveland a Republican party convention that was already preparing for 1968-style clashes between police and protesters, many Americans are fearful that the fuse has finally been lit.
The shooting in Baton Rouge happened along the same street on which demonstrations had raged in recent days over the fatal shooting by police of Alton Sterling, an African American CD-seller they had pinned down outside a shop, after reports that he had threatened someone.
Protests spread further afield a day later, when video of the death of Philando Castile, a school canteen worker who was legally entitled to carry a pistol, was broadcast live on Facebook after an officer allegedly shot him when he reached for his identification during a traffic stop.
Even as the US reeled from the two shootings, and then the massacre in Dallas, four young African Americans, one just 12 years old, were arrested in Baton Rouge for stealing guns. Authorities alleged the theft was part of a plot to kill police officers.
The country is more sharply divided along racial lines than at any point in the past quarter of a century. An ABC News poll this weekend found that almost two-thirds of those surveyed said race relations were now generally bad a total reversal of the sentiment detected in the first weeks of Obamas presidency. A majority said the problem was only getting worse.
As organisers and thousands of protesters from the loose coalition known as Black Lives Matter earnestly denounce violence against police and argue for peaceful policy changes, deadly assaults by fringe extremists are likely to further stoke resentment of the demonstrations among large swaths of conservative, white America.
While 70% of African Americans are sympathetic to the movement, a little more than a third of white people feel the same way, a CBS poll found last week. This division has been cynically encouraged by Trumps increasingly poisonous campaign to replace the countrys first black president, whom he has disgracefully tried to tar as a foreign-born traitor and a possible sympathiser with militant Islam.
While Hillary Clinton, the presumptive Democratic presidential nominee, has proposed modest criminal justice and policing reforms, Trump has vowed to free officers to do as they please and offered to pay the legal fees of supporters who violently assault Black Lives Matter demonstrators at his rallies.
I am the candidate of law and order, he boasts, harking back to an age where racial division was not only widespread but also protected by law.
In the immediate aftermath of the Baton Rouge shooting, his campaign issued a statement: We grieve for the officers killed in Baton Rouge today. How many law enforcement and people have to die because of a lack of leadership in our country? We demand law and order.
Obama was due to make a public statement. Before that, he issued a statement which said: These are attacks on public servants, on the rule of law, and on civilized society, and they have to stop. We may not yet know the motives for this attack, but I want to be clear: there is no justification for violence against law enforcement. None.
Read more: https://www.theguardian.com/us-news/2016/jul/17/baton-rouge-shooting-police-relations-barack-obama