Donald Trump looks especially cynical as he shows himself prepared to fire his campaign manager not over allegations of assault, but a slide in the polls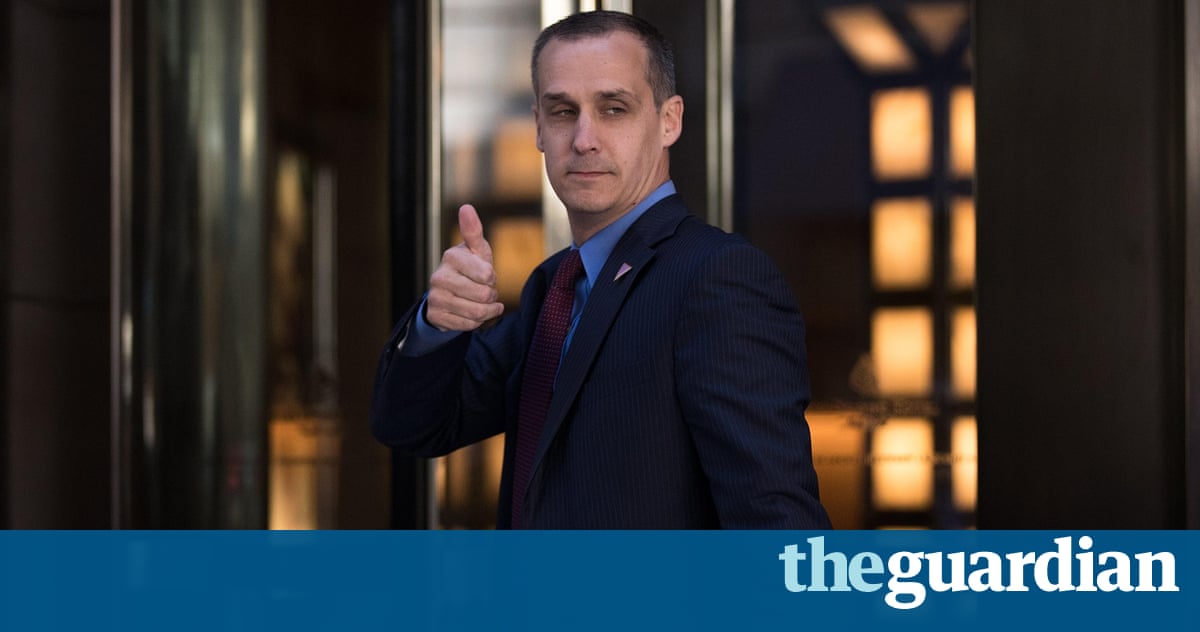 There were a million reasons to fire Corey Lewandowski. But the reason Donald Trump did it was that for the first time in recent memory, he wasnt winning any more.
It wasnt a sugarcoated affair: Lewandowski, the controversial campaign manager who stood by Trumps side over the course of his nutty but meteoric rise, was escorted out of Trump Tower by security on Monday morning. It is, however, surprising.
For months Trump had stood by Lewandowski despite reports that he had been rough and sexually suggestive with female reporters, and profane with fellow staffers. He stood by him after Lewandowski was charged with assaulting a female reporter, and even piled on when he tried to impugn that womans character.
Later when a video surfaced confirming he had grabbed her arm, Trump didnt just shrug it off, he actively embraced him. Following a big night of wins in the 15 March primaries, he put him center stage during his victory speech an unusual place for the usually invisible role of campaign manager and even praised him by name. Good job, Corey, he said. Later he would add, I dont discard people.
But that was back when Trump was winning. As he began to slip in the polls and the reports about his campaigns open infighting and discontinuity became more and more common, Lewandowski was pushed increasingly to the side, and a new manager, Paul Manafort, brought in. By the time he was actually discarded, relations were so toxic one adviser tweeted, Ding dong the witch is dead, in reference to the dismissal (that operative has already left the campaign).
While firing a problematic staffer might seem like an obvious move for a more conventional political candidate, its a strange look on Trump.
After all, his chief attribute, the thing hes always prided himself on bringing to the table, is that hes a good manager, able to pick the best people from the pack. Its the premise of the show that took him to new heights of celebrity, The Apprentice, and central to his appeal in campaigning against the patently political Hillary Clinton. We expect him to flip-flop on policy but not on people.
But the strategy of sticking with Lewandowski hasnt been working so well for him of late as evidenced by his slipping poll numbers and recent emergency requests for campaign cash. And comments about how the ethnicity of Judge Gonzalo Curiel, the man overseeing the fraud case against Trump University, made him biased, have not gone over so well with the Republican party or the American electorate. And then there was his response to the Orlando shooting, which included not just a call to ban all Muslim immigrants but also accepting congrats for being right about Islamic terrorism.
Of course such missteps were not necessarily Lewandowskis fault but they didnt help his already sinking ship. The polling, it seems, has done what assault charge and screaming matches and a long trail of alleged misbehavior and misconduct never could: convince The Donald to dump him.
Whether Manafort and the rest of Trumps motley crew can pull something resembling a platform together ahead of the convention is anyones guess.
Usually, inexperienced political candidates like Trump can count on the party to send in reinforcements and expertise. But Trump and Lewandowski have alienated the Republican establishment. Who would want to be chief of staff for the campaign thats seen as destabilizing the GOP?
So much of being president is about choosing the right people for the positions around you, and the saga of Corey Lewandowski is a case study in why Trumps exactly the wrong person for that job.
Read more: https://www.theguardian.com/commentisfree/2016/jun/20/corey-lewandowski-fired-donald-trump-polls