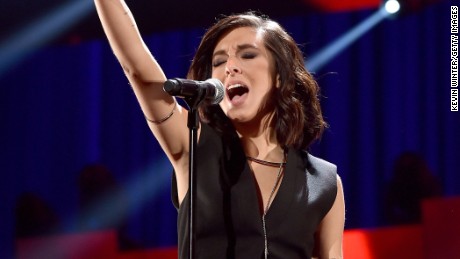 (CNN)Orlando, Florida, police have closed their investigation into the shooting death of singer Christina Grimmie, and while it reveals little about the shooter's motive, several of his coworkers felt Kevin Loibl was obsessed with "The Voice" singer.
The police department's report on the case is filled with curiosities. Among them: Loibl's family said he had no history of mental illness but lived "like a hermit" and covered his bedroom windows with aluminum foil and heavy curtains because of "an aversion to light."
And though Loibl had no criminal record, St. Petersburg police responded to the family's home in 2014 because of a domestic disturbance involving Kevin Loibl and his father's girlfriend, the report says.
As for the two guns Loibl had in his possession following the murder-suicide, the report says the 27-year-old purchased them legally days before he gunned down Grimmie as she signed autographs following one of her shows.
In both cases, he bought the guns — different models of Glock 9 mm handguns — and picked them up after five-day waiting periods, the first on May 31 and the second on June 7 — three days before he gunned her down.
Other telling facts from the investigation:
Hotel clerk felt Loibl was 'strange'
Loibl's Best Buy supervisor, Luke Dahl, described Loibl as "socially awkward, detached" and said he had no social skills. Loibl worked "in the back" of the store, where he did not interact with customers.
Dahl never heard Loibl mention Grimmie, but Dennington — who also worked at the store — mentioned the matter to Dahl in January or February, saying their friendship was in jeopardy because of Loibl's "unrealistic infatuation with Christina Grimmie," the supervisor said. Dahl never spoke with Loibl about Dennington's concerns, but did later observe him watching YouTube videos of Grimmie at his work station.
At least five of Loibl's coworkers told police they knew of his obsession with Grimmie, but they didn't realize the extent of it. And though his physical changes were apparent, they didn't notice any mental changes. Dennington said Loibl's colleagues "would good naturedly tease Loibl about his 'internet crush,' " the report says.
One coworker recalled Loibl boasting to her that he had played online games with Grimmie, but police were unable to confirm the claim.
Read more: http://www.cnn.com/2016/06/22/us/christina-grimmie-the-voice-orlando-police-end-investigation/index.html