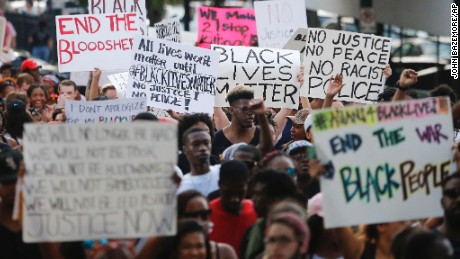 (CNN)What was the biggest news event of the week? What was the most important, consequential, significant event of the past seven days, the one that will have repercussions; what will resonate, make its place in the history books?
My guess is that you know the answer and you reached it quickly. And for a moment at least, the very thought of it filled you with anger. You knew immediately what it was. But I also guess that if you polled everyone you know, your choice will not be the same as everyone else's.
Did you select the brutal murder of five Dallas police officers on Thursday night — a horrific attack that produced the worst death toll for law enforcement in the United States since 9/11?
It wasn't very long ago that everyone in the news business knew the summer was the slow time, but quiet summers are now in the past. We are living in a different world.
The news is not something we consume reading the paper with our morning coffee or watching evening television in our living rooms. Some of the social and political transformations that have helped trigger these world events — that make the world seem fast-changing, threatening and unpredictable to some — also shape the way the news affects us.
Consider what you may have seen shared on social media this past week
It's all there: live, online, available to watch over and over, available to discuss, to stir our emotions time and time again.
Whatever you view as the most important news story of this heartbreaking week, there is a strong chance that you feel it is personal to you. That is one positive aspect of this new interconnected reality. We now see the human beings in the headlines. We see that it's real life.
Read more: http://www.cnn.com/2016/07/10/opinions/news-of-the-week-frida-ghitis/index.html